news of Kaitlyn Farrington's retirement.
Just learned the news of Kaitlyn Farrington's retirement. Our thoughts are with you, KF. We know you are on your way to bigger and better things. Love you!
---
Today's the day.
It's been three months and an eternity, and as much as she thought she was prepared for this moment, Kaitlyn Farrington is fighting back tears. She's nervous; more than before any snowboard contest, her Olympic debut or the moment the national anthem played in celebration of her Olympic halfpipe victory in Sochi. Once she says the words, she knows this will all be real. She stands up from the couch in her Salt Lake City home, gathers her thoughts and tugs on her black The North Face hoodie. "All right, this is happening," she says. "Let's do it."
The defending Olympic snowboard halfpipe gold medalist is retiring at 25, because of a degenerative spine condition called congenital cervical stenosis.
"I thought I was too young to hear the word 'retirement,'" she says. "There's so much I still want to do in the halfpipe. I thought I'd be pushing the sport for many more years and try to make the Olympic team in 2018. But the risk of snowboarding in a halfpipe or hitting jumps is too high. It's been tough to accept, but I'm retiring from competitive snowboarding."
There. It's out. Now she can breathe. And tell the story of how a recent fall in Austria and a routine MRI led her here, to the day when she announces she can't compete in snowboarding anymore.
[row]
[col col=6]
Courtesy of Alyssa Roenigk – originally covered at link below.
U.S. Snowboard team physician Dr. Tom Hackett shows Farrington's MRI and points to the area that is stenotic, her herniated disc and the kink in her spinal cord that would put her at risk of paralysis if she continued to compete in snowboarding.
[/col]
[col col=6]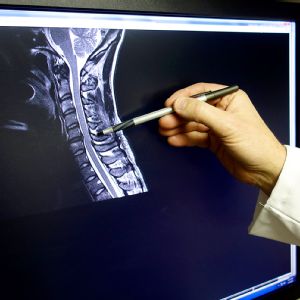 [/col]
[/row]
It was late October 2014 and Farrington was in Hintertux, Austria, for a product shoot with Giro, one of her sponsors. When they arrived, the weather was beautiful. But a storm moved in and two days into their trip, the glacier where they were shooting was closed. She and a couple of teammates built a jump with a powder-covered grass landing and took turns filming one another launching tricks.
Read the full article here: http://espn.go.com/espnw/news-commentary/article/12172344/olympic-gold-medalist-snowboarder-kaitlyn-farrington-retire